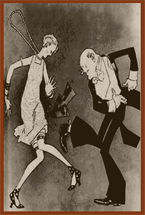 The Cabaret Crew:
Medusa

Renowned organiser of the Bal du Masque, Tokyo Decadance and Medusa parties. Always looking for interesting locations. Very much aware that man needs spaces to be free, because only in freedom, one finds him/herself, and only in play, one finds morale....

She can never get stuck in one scene, because too much is too interesting! Medusa works with several theatre groups, stiltwalkers, acrobats, firebreathers and so on. She writes anthropological articles every now and then, and loves to stick her fingers in interesting projects...

Herr Dokter

Former fellow organizer of Boudoir Bizarre. Herr Dokter is a true underground performer. Sideshow Carnival at its best. Freakshows with style. Never a dull moment with this doctor, let him take you places, as his mind is full of worlds for you all to travel into...

Djinh

Professional party-animal, photographer, technician, firebreather, gangster, webhost, and so on. One of those peeps one simply cannot do without, as you will notice at the party!

Xarah von den Vielenregen

Xarah is a german model for gothic fetish burlesque pin-up glamour fantasy art & a fire burlesque performer from Berlin. She is well known all over Europe and beyond, and we are honoured to have her as our crew!

Miss V-Tox

She is a vj, composer, guitarist, 3d producer, costumedesigner, shoemaker, she likes to create art, music, moods and atmospheres. Everything to make life beautiful...

CoCo

CoCo is a traditional Japanese bondage artist, she is a performer at heart, loves to play with dangerous stuff like fire and katanas. Besides doing freakshows, she is also a wonderful hostess and an honourable dominatrix...

Dj Sabotage

DJ Sabotage is spinnin' beats & breaks over almost a decade. Because of his in-depth club experience, unique style of mixing and perfect interaction with the crowd, he truly knows how to keep the party going all night long.

DJ Sabotage not only spins the latest tunes but also loves to go back in time: He pleases the crowd with a breathtaking selection of swing music, mashups, and any other old nostagic tune you may want to hear on a new beat....!

Dj Tino

About 15 years ago Tino was spotted at one of the many techno/house parties. This was the beginning of his dj career. He was a resident dj at Club Stalker, Haarlem, and at the popular Freeway evenings, he played side to side with Remy, Eric.E, Tiësto, Dimitri, Mrs.Wood, Terry Francis en nog vele anderen. He is also a dj at Woodstock, Bloemendaal.

Antoinette

We are proud to have this wonderful lady in our Team. She is our mascotte! Having her around, means that everything becomes ... ah....velvet! She puts a red ribbon around the party, Antoinette and her wonderful style in clothing and decoration have always made atmospheres warmer and finer. We love her for it!

Merlin the Wizard

Merlin is a craftsman, timetraveller, partybeast, drummer and above all: a great help to us all.

Mr. Leon

The best cook to have aboard! Leon supplies us with an exquisite dish of necessities a party like ours needs. Besides being a stage runner, Leon is also a laser engineer and techno producer, always there when you need him.
LINE-UP for our 2nd Edition of FETISH CABARET:
Dj's Main Stage:
21:00 - 23:00 Dr Hirschfeld
23:00 - 02:00 Dj Sabotage
02:00 - 04:00 Dj Tino
Line-Up Shows:
21:00 - 23:00 Medusa's Stiltwalkers @ Entrance

23.00 Liza Binelli
Arvidius
Bling-Bling
The Great Leo and Miss Joane
00.15 Liza Binelli
Arvidius
Raniya
Ilya FleshFactory
Line-Up Lounge:
23.30 RopeMarks & Dutch Dame
01.00 Daddy & Q-tie
Dj's line-up lounge :
21.00 Dj Leon
Dr Hirschfeld
Herr Dokter
All night long: Visuals from V-Tox & Airplain Visuals
AND:
A mini Market!
With stands from:
TuTu Tale (http://www.myspace.com/2ndempirebyantoinette ) (Gorgeous fashion!)
Shameless (
Madieanne (www.facebook.com/madieanne) (Shoes!)
Dark Enchantment (www.dark-enchantment.nl) (Hats and more!)